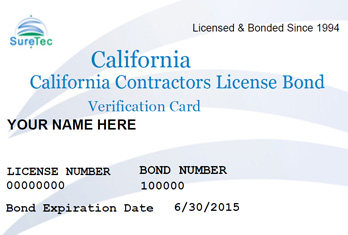 License Bonds
We have been quoting, underwriting and issuing contractor license bonds in California since 1968 under our affiliate, California Contractors Insurance Services, and we developed DIYbond to deliver instant license bond quotes and issuance with the California Contractor State License Board.
California Contractors quickly shops seven different (A) rated insurance companies to secure the lowest premium rate. DIYbonds.com will instantly quote with one of the most competitive sureties in the market. Each surety bond company has a unique rate filing and underwriting criteria, allowing us to source the best possible premium rate for each contractor's specific situation. If you would like to shop other bond companies submit an application for a California Contractors License Bond.
California Contractors and DIY Bonds offer financing for higher premium rates with the lowest down payment available in the market. We file all bonds electronically to the CSLB and automatically email a copy of the bond to the contactor. Once the bond has been issued we mail the contractor the License Bond Card that identifies the contractor's business name, license number, bond number, years licensed and the agent to contact for verification.
The California Contractor State License Board requires all licensed contractors to maintain a $15,000 license bond or a $15,000 cash deposit in place with the CSLB. The state of California requires the bond to protect consumers, subcontractors and vendors if the licensed contractor fails to meet any obligation under California Contractor License Law. If a claim is paid out by the surety company on the bond, the contractor is required to pay the claim amount back to the bond company. Consequently, all surety bond companies currently file their premium rates with the Department of Insurance for the California State Contractor License Bond based on the personal credit of the principal contractor. The surety bond companies also review the principal's prior contracting history and license record.